August 29,2023
N1 Partners: insights from our affiliates
.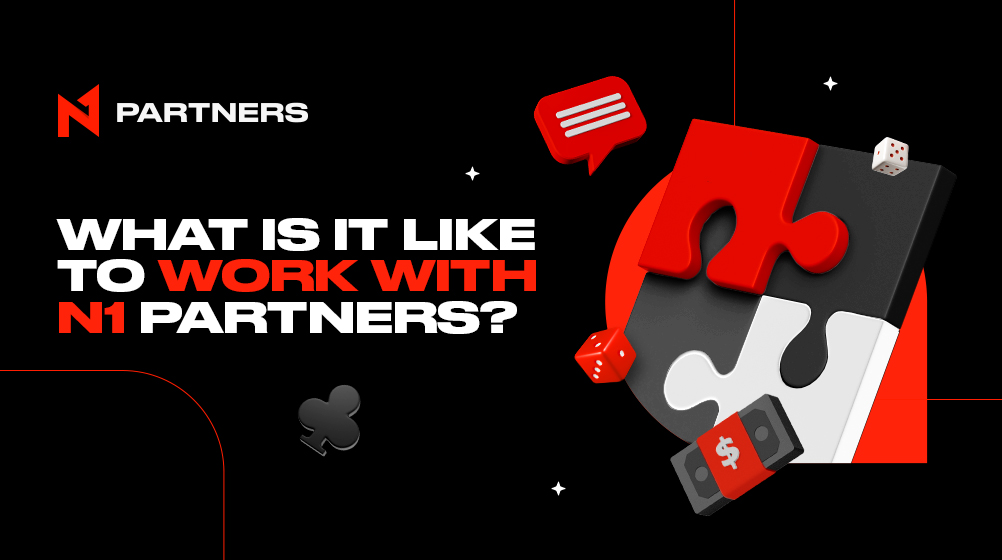 Being a part of the iGaming market for 5 years and collaborating with countless affiliates, we at N1 Partners have quite a story to tell. Today, we want to share with you the experiences of our two partners - their insights, journeys, and successes.
Q: Can you tell us about your team and how long you've been working with N1 Partners?
A: "We consider N1 Partners to be a strategic ally. While our company has historical roots that go back more than 10 years, it wasn't until 2018 when things really kicked off. With the launch of N1 Casino the collaboration between us and N1 Partners began and it was a successful, mutually growing partnership ever since. Similar to the growth the collaboration has seen, we also experienced tremendous internal growth, from about 10 employees in 2018 to more than 150 in 2023."
A: "Our team is a dedicated and passionate group that specializes in content publishing in both German and English-speaking markets. Comprised of two co-founders and a skilled network of freelancers, we've been committed to providing top-tier content and engaging experiences for our readers. Working with N1 Partners has been an exciting journey, and it's a partnership we deeply value. We've been collaborating with them for over three years now, and the synergy we've built has allowed us to grow and provide exceptional value to our audiences."
Q: What type of traffic does your team work with?
A: "We consider ourselves an SEO-first company. This means our primary goal is to deliver traffic and value to partners via organic rankings, which we consider as the supreme discipline in affiliate marketing. While we are also growing vertically and horizontally via mergers and acquisitions, SEO is at the core of everything we do. It is important to mention that what we do is not just about delivering FTDs (First Time Depositing Users) to our partners. On top of that, our role also entails to retain customers and deliver branding value to our partners. So if a customer who already has an account with N1 visits one of our websites (a returning visitor) and sees the N1 Casino in our top lists, they are consistently reminded about the great opportunity for entertainment on that site."
A: "Our team primarily focuses on SEO as our main source of traffic. By leveraging best practices in SEO, we ensure that our content ranks well in search engine results and reaches a wide and targeted audience. This approach allows us to connect with readers who are genuinely interested in online games and casinos, providing them with relevant and engaging content."
Q: How did you first learn about N1 Partners, and what attracted you to work with us as an affiliate?
A: "As a leading SEO affiliate powerhouse, we receive collaboration enquiries from many operators each and every day, which in today's market, is a privileged position to be in and one that we do not take for granted. However, back in 2018, when we began our expansion strategy into new markets and started adding more new brands to our portfolio of assets, we undertook extensive research when selecting our first new partners - from the very beginning, we knew that N1 had to be one of these. Since then we have a very strong connection with our Affiliate Manager, Roman, and we take every opportunity we can to meet with the N1 team around the European conference circuit each year."
A: "We first learned about N1 Partners through the undeniable power of their brands. The strong reputation and success they had achieved in the industry immediately caught our attention. As we explored further, it was their fair commission model and exceptional support through affiliate managers that truly impressed us and solidified our decision to work with them. The N1 Partners team displayed a deep understanding of the affiliate marketing landscape, and their approach resonated with our values and business goals. We quickly realized that a collaboration with them would be mutually beneficial, fostering growth and success for both parties. Their transparent and rewarding commission structure, coupled with the dedicated support of their affiliate managers, has made our partnership both enjoyable and prosperous."
Q: What are the benefits of working with a direct advertiser?
A: "There are many. A direct advertiser means having a "direct " access point to an affiliate program and first-hand information about brands, products and any changes that are coming up. For us, this means speed, agility and flexibility which is in line with our idea of a quick "time to market " approach, which gives us the opportunity to simply do more things (e.g. entering into special agreements, having more flexibility regarding reward models, adding exclusive bonuses or special campaigns of any sort, etc). I am not saying that networks don't have value, they in fact do in various ways and situations and we also collaborate with a select few. However, we see SEO and affiliation as our core business, and therefore prefer to foster direct relationships with our partners to ensure the best course of action for our business."
A: "Working with a direct advertiser like N1 Partners offers distinct benefits such as enhanced communication, quicker decision-making processes, and tailored collaboration. The direct connection eliminates middlemen, providing more control over campaigns, and allowing for more personalized strategies that align with both parties' goals. This fosters a transparent and efficient relationship, enhancing overall performance and success in our endeavors."
Q: Could you share your experience participating in the recent promo for the 5th anniversary of our affiliate program and winning an exciting prize? How does it feel to be a winner?
A: "We love these kinds of promotions as they simply add some further excitement to our day to day activities. And winning per se always feels good, right? :) That's why we participate in all promotions of the N1 Partners program, and I can say that the recent prize we won, a new Playstation 5, is heavily used in our office and is much appreciated by the company members. Thanks again for it and keep up the good work in delivering such engaging competitions and promos!"
A: "It was an exhilarating experience! The N1 team consistently brings innovation and excitement to the table with their engaging competitions. It's not just about winning; it's about the collaborative spirit and the desire to push ourselves to send even better and more targeted traffic. Winning an exciting prize was an incredible bonus, but what truly makes this experience memorable is the motivation it provides. The recognition and the prize serve as a great boost, not only celebrating our achievements but encouraging us to continue striving for excellence."
Q: In your experience, what types of affiliates would benefit most from joining N1 Partners, and why? What advice would you give them to make the most out of the partnership?
A: "That's not an easy question to answer as I honestly wouldn't exclude any type of affiliate from the N1 Partner program. It is true, there has been a tendency in the industry that the big super affiliates are getting even bigger and in some channels, such as SEO, it's getting more difficult for a new startup to compete with established brands. BUT: as a natural law of competition and business, there is always room to compete or challenge the status quo by innovating or recombining existing elements to create something new. Since big corporations usually tend to focus on the opportunities that drive the needle (for them), they usually avoid "smaller " traffic opportunities which allows new affiliates to explore some niches. As an affiliate program, I would always see the biggest value in SEO/content as this simply is a traffic channel which heavily relies on affiliates, while media buying, display, email and social media ads are channels that can, to some extent, be done inhouse too."
A: "Affiliates that focus on innovation, engagement, and quality in the online gaming and casino industry would benefit immensely from joining N1 Partners. The program offers superb support, competitive incentives, and opportunities to grow. My advice for those looking to make the most out of the partnership is to communicate openly with the N1 team, align your goals, and stay committed to providing value for your audience. Embrace the creative competitions and promotions, as they can be a great catalyst for growth and motivation."
Q: What do you think an affiliate program should have in order to be the best for affiliates?
A: "I would split this into basic requirements, ways to stand out and foundations for sustainable long-term success. The basic requirements of an affiliate program are standard things and should be pretty clear, such as good products (casino, sportsbook, poker, etc.), reasonable and transparent reward models and terms, a decent affiliate software to track performances with reports and accessible affiliate managers. To stand out, it is fundamental to work hard to raise the bar of these basic requirements. You need fabulous products which are brands that are well known and established for many years. This helps affiliates with improved conversion rates and usually results in an above the average customer lifetime value. The reward plans should be competitive with the best offers out there, and the affiliate managers likewise should be reliable, prompt, passionate and motivated to optimize even the minor details. This aligns with the concept of marginal gains: small improvements accumulate over time, benefiting both businesses. Typically a presence at the bigger iGaming conferences is relevant here too, as this allows steady and direct face to face exchange with affiliates. Sustainable long term success: innovation is important and it is vital to continuously improve the product and brands. Most importantly: never stop enhancing the things that once made you shine above the average affiliate programs. This means first and foremost: stick to your long-term agreements, never, let me repeat, never! lose the established path of mutual success just because of the benefit of short term gains. I have seen programs cutting deals or removing players just for maximizing short term EBITA. This kills the trust in a program and usually heralds the beginning of the end of an affiliate program. Performance fluctuates, so does life in general, but true partnerships stand the test of time."
A: "An ideal affiliate program should encompass reliable account management, impressive conversion rates, fair commissions, solid tracking and stats. These core components create a foundation of trust and efficiency, enabling affiliates to optimize performance, align strategies, and reap the rewards of a transparent and profitable partnership. It's a blend that ensures success, satisfaction, and a lasting relationship between the affiliate and the program."
That's the story of working with N1 Partners - a journey of growth, engagement, and mutual success. We're always excited to welcome new partners on board. Join us and start your journey towards even greater rewards!
In September, more interviews are coming your way. Stay tuned for our updates!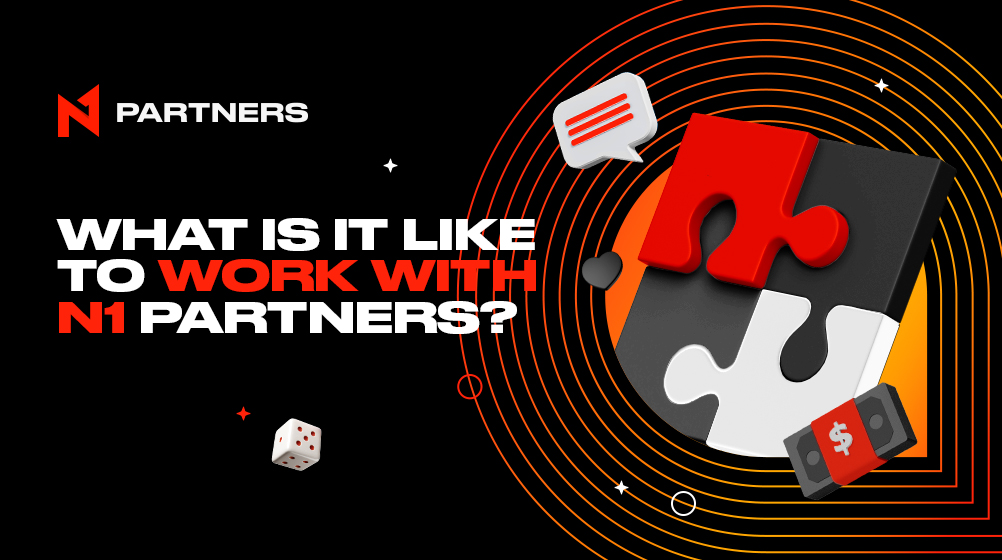 September 21,2023
N1 Partners: insights and honest opinions
With 5 years in the iGaming market and numerous collaborations with affiliates, N1 Partners has an impressive journey to recount. Today, we aim to introduce you to the experiences of two of our valued partners, sharing their insights and triumphs.
More details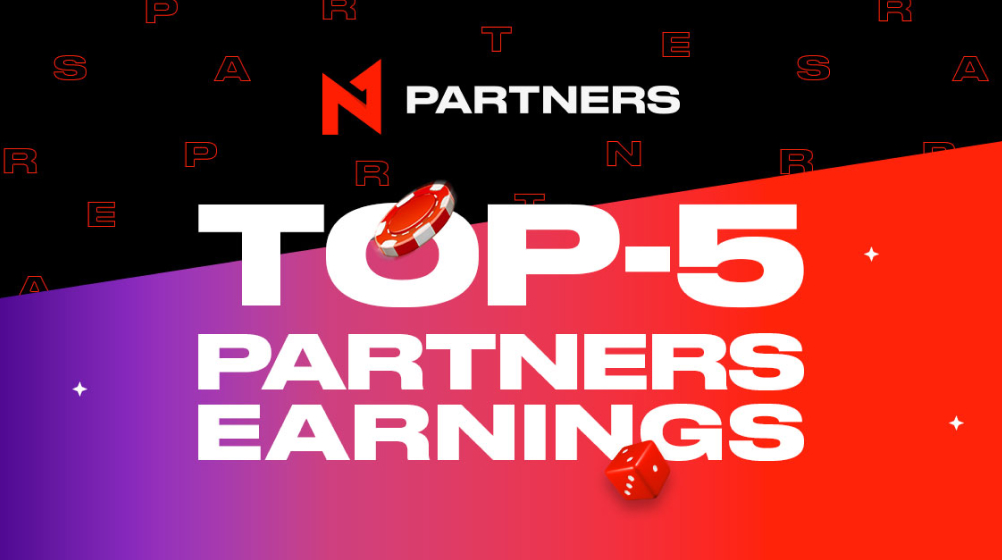 September 12,2023
How Much Can N1 Partners Earn? | August
Explore the incredible payouts received by our exceptional N1 Partners in August. These new figures give you a sneak peek into the impressive profits achievable when you team up with us.
More details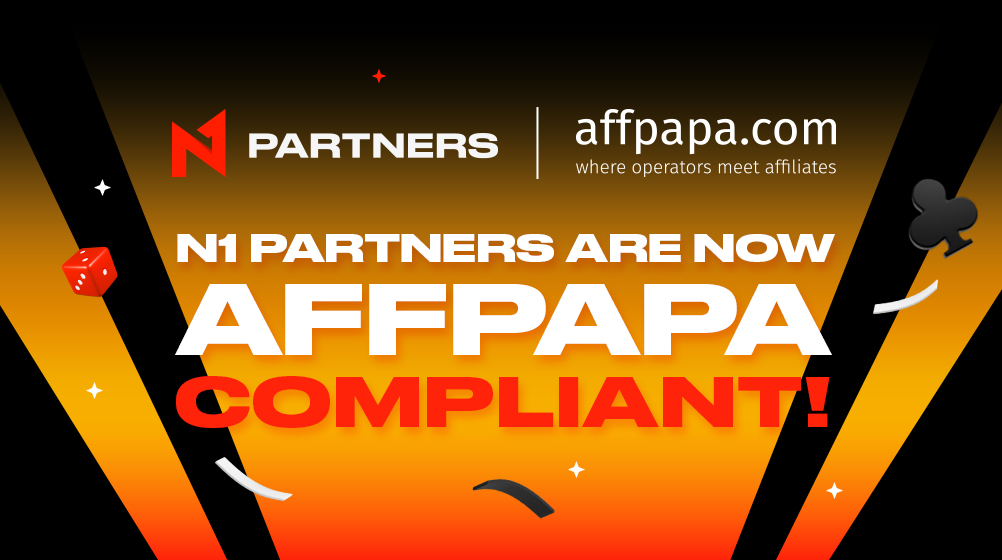 September 6,2023
N1 Partners are AffPapa Compliant now!
We are excited to announce that, starting from September 1, 2023, N1 Partners proudly holds the AffPapa Compliance seal. We are now officially recognized as a trusted member of the esteemed AffPapa honourable operators group, fully compliant with the Fair Partnership rules.
More details